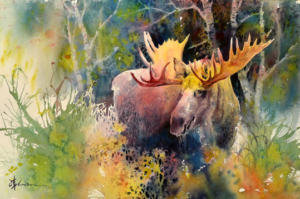 Join internationally acclaimed artist and instructor Lian Quan Zhen in a watercolour workshop at Burrowing Owl Estate Winery. This 3-day workshop will appeal to all levels of skill and interest. It will be a hands-on intensive program, designed to improve watercolour techniques and to develop an appreciation and understanding of his unique "Color Pouring and Blending" method. Lian's art can be seen at: www.lianspainting.com
Lian is a sought-after watercolour and Chinese painting artist and teacher in the US, Canada, and abroad. After practicing medicine in China for several years, he emigrated to the United States where he obtained a Bachelor of Arts Degree and then a Master of Architecture. He has conducted watercolour and Chinese painting workshops throughout the world and has been an invited juror at numerous art exhibitions. He has published four books on painting techniques and a collection of his paintings has recently been selected for a coffee table book featuring just two artists. 
This workshop includes, in addition to daily instruction:
4 nights in a private ensuite room in the Burrowing Owl Guest House
a wine country breakfast each morning for those staying in the Guest House
a welcome wine reception for all participants on the Monday evening prior to the start of the workshop
a gourmet lunch on the Tuesday and Wednesday. On Thursday artists will be served lunch at the highly acclaimed Sonora Room Restaurant located at the winery
a wind-up critique on the 3rd day, including a wine and cheese reception.
For more information regarding rates, schedules, and availability please contact the workshop coordinator Donna Goett at dgpurple51@gmail.com or cell # 250-486-2266.
To reserve Guest House Accommodation please call 1-877-498-0620
Note also, the Visiting Artist reception on Friday, April 14th from 3 – 6 p.m. in The Wine Shop