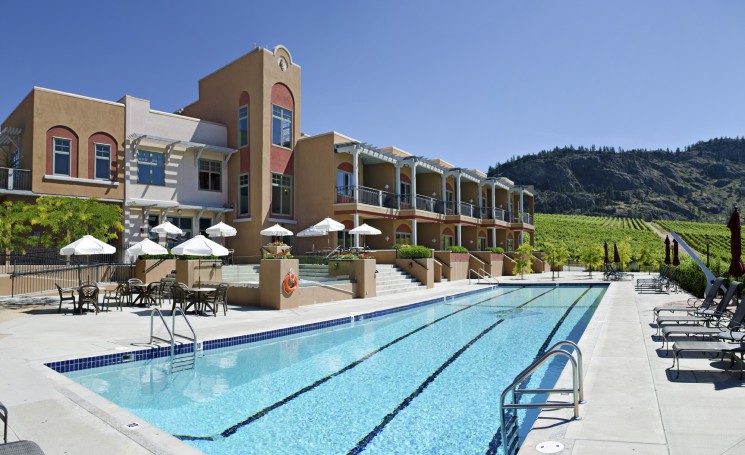 Visit the Winery

Burrowing Owl Estate Winery is located at 500 Burrowing Owl Place (off Black Sage Road), about half way between Oliver and Osoyoos. (See map page) 
Haven't been to Burrowing Owl before?
Watch this great video! James Cluer, Master of Wine, visits Burrowing Owl Estate Winery
The Wine Shop
Winter Hours: Jan 4th – February 12, 2016:
5 days a week (Monday – Friday), 10 am – 4 pm
Closed Weekends and Stat Holidays unless otherwise posted

Spring Hours: Starting February 13, 2016:
7 days a week, 10 am – 5 pm
Summer Hours: Starting April 29th, 2016:
7 days a week, 10 am – 6 pm
Food Services
The Sonora Room Restaurant will re-open for a Valentines Weekend on Friday, February 12th, 2016. Call to make a Valentine's Reservation 1-877-498-0620 ext 1 or email .
The Sonora Room at Burrowing Owl offers superb cuisine at lunch and dinner and is one of the finest dining experiences in the Okanagan. The view from the patio is spectacular, or a seat looking through the French doors, overlooking the vineyard, is memorable at any time. Taking reservations now for the 2016 season. Click here to see a sample menu.
The Guest House
The Guest House will re-open for the 2016 season on Valentines Weekend, Friday, February 12th, 2016. Email  to make your Valentine's reservation.
Current information about the Guest House is available on this web site at The Guest House. Rates are posted. Call now for your retreat. For reservations at 250-498-0620 ext 1, or  .
Children
Children are welcome at the winery or in the restaurant if they are under the supervision of an adult. Alcohol cannot be served to minors and picture ID will be required of anyone requesting alcohol who appears to be under the age of 25 (BC Liquor Laws). Children under the age of 12 are not permitted in the self guided tour tower unaccompanied by an adult.  
Please note that for overnight accommodation at the Guest House, children under the age of 16 are not permitted.
NEW FOR 2016:
To ensure the enjoyment of all of our dining guests, children playing on portable electronic devices in the Sonora Room Restaurant will be asked to use earphones. Please ensure you bring your child's earphones if you wish them to play on electronic devices, OR you may rent ours for a small fee. Please ask your server. Quantities of earphones are limited, so please consider bringing your own to avoid disappointment. Thank you for your understanding in this matter.
Tasting fee
For Wine Tasting, the cost per person is a minimum $3 donation which goes directly to the Burrowing Owl Conservation Society of British Columbia (BOCS of BC). Donation boxes can be found on our tasting bar in the Wine Shop.
Burrowing Owl Estate Winery is closely affiliated with this charitable organization and we do all we can to support fundraising efforts to enable the society to continue their excellent work. In recent years, the Burrowing Owl Conservation Society's funding from government sources has been greatly reduced to the point where our $3 donation program now constitutes most of the Society's annual funding. Rest assured that each penny of the donation program goes directly to the Society. Help us help this endangered species.
Self-Guided Tours
Our bell tower houses an interesting and informative self-guided tour that can be enjoyed during The Sonora Room Restaurant hours. The entrance to the Self Guided Tour is through the Sonora Room Restaurant. 
As above, please note that children under the age of 12 are not permitted in the self guided tour tower unaccompanied by an adult.  
Guided Public Tours
Guided tours for the public are offered on Saturdays at 4 pm and Sundays at 10:30 am, between Victoria Day (May) Long weekend and early-September. Guided tours may go longer depending on cellar conditions during harvest. Please call front desk for tour status update during harvest 1-877-498-0620 ext 1.
Cost is $5 per person, and tickets can be purchased on day of tour in the Wine Shop. Maximum of 15 people per tour – first come, first serve!
Guided Public Tours last approximately 30 minutes, and require a moderate level of physical fitness as stairs are part of the tour.  Children under the age of 8 are not permitted on the Guided Public Tours as the group will enter into a working cellar with some hazards not suitable for young children.
Private Tours
Please click here for information on our Private Tour Program.
Handicapped Access
Our facility has access for wheelchairs everywhere except for the bell tower. For those who cannot manage stairs but wish to visit the different levels of our gravity flow winery, we ask that you pre-arrange with us to be transported to each level where you can meet the touring group.
Sign Up For Wine Announcements